Jai Bhim Movie Review
1 November 2021, 5:03 pm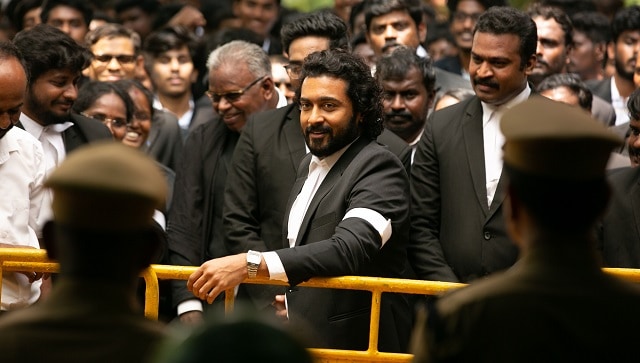 A courtroom drama is always an interesting watch. Jai Bhim is one such film that is raw and real. The movie is about Justice Chandru who as an advocate fought a legal battle for Irular community. How he ensured justice meted out to them. Directed by T S Gnanavel, it is producer by Suriya and Jyothika's 2D Entertainment. Suriya plays titular role whole Manikandan, Lijomol Jose, Prakash raj, Ilavarasu and others form part of the cast. The team behind this film also includes DOP SR Kadhir, Editor Philominraj, and Art Director Kadhir. Sean Roldon's scores music.
Story
The movie is about a trio from Irular (a Scheduled Tribe) arrested in a theft case. The police, under pressure to solve pending cases, foist false cases on people from marginalised sections, knowing very well that they do not have the connections or money power to save themselves from the justice system. Helpless wife of one of the victims knocks the door of do-gooder advocate Chandru (Suriya).
Performance
Suriya does a good act and under plays his role. He is sharp and vigilant. Manikandan is excellent whole Lijomol does give her best. Prakash Raj aa police officer is flawless. All the artistes including smaller roles chip in well.
It a fantastic film that raises many questions. Police violence on downtrodden and marginalised is well said. Dialogues are razor-sharp. Songs add more to the story.
Verdict : Raw and Real
Rating : 4.5/5

0

0