Sarpatta Parambarai Movie Review:
22 July 2021, 12:13 pm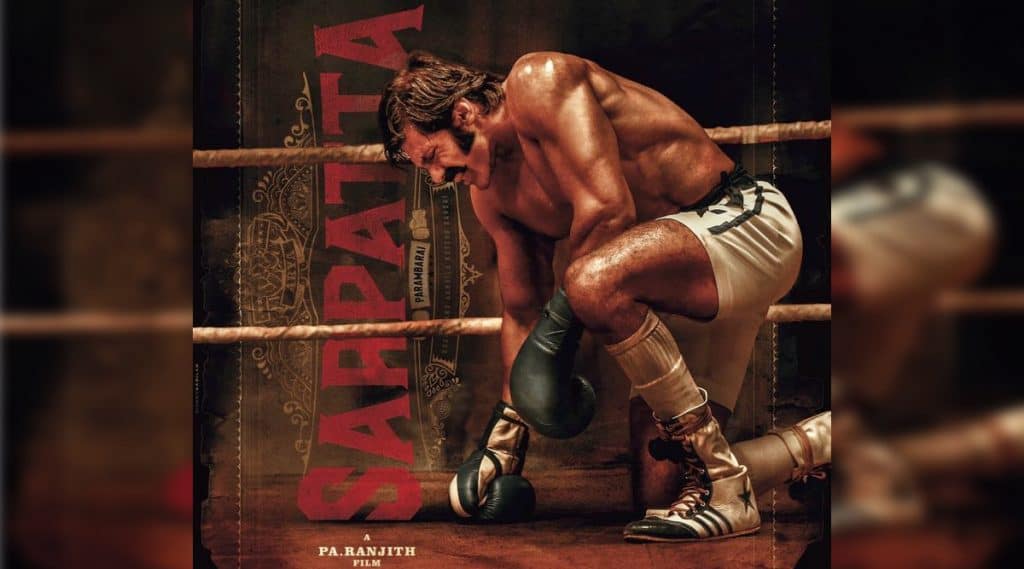 A typical Pa Ranjith film that speaks of caste divide, socio-political situation and underdog emerging winner. Sarpatta ia more of Arya as a North Chennai boxer Kabilan. fighting all odds to win a crucial bout. The boxing culture that prevailed in the are untill late 1970s made sure Pa Ranjith take to a time machine and set his whole film in Emergency era.
Story
Sarpatta Parambarai and Idiyappa Parambarai are two clans fight each other on ring. Rangan (Pasupathi) of Sarpatta Parambarai post hisbretirement see losing to his opponent often. It is tough to beat boxer Vembuli (John Kokken) of Idiyappa Parambarai say all.Though Rangan has trained quality boxers including his son Vetri (Kalaiyarasan) and Raman (Santhosh Pratap), they are not competent and lack focus to defeat Vembuli. Enters a timid Kabilan(Arya), who has great love for his master Ranjan. Situation force him to take the ring and what happens next forms the rest.
Performance
Arya is at his best. His physical transformation is amazing. He even emotes well. Pasupathy is scene-stealer. He does a good act. He is subtle and spontaneous. Anupama Kumar as Arya's mom and John Vijay as Arya's uncle and the rest of the cast including Kalaiyarasan,Sanchitha Natarajan and Kali Venkatesan does well. Murali's camera speak fresh language.
Plus
Arya's performance
Pasupathy's emotional act
Murali's camera
Weakness
A lengthy second -half
Scenes involving Kalaiyarasan and Arya
Punchline- Knockout punch
Rating – 3/5

0

0