Selfie – Movie Review
1 April 2022, 1:17 pm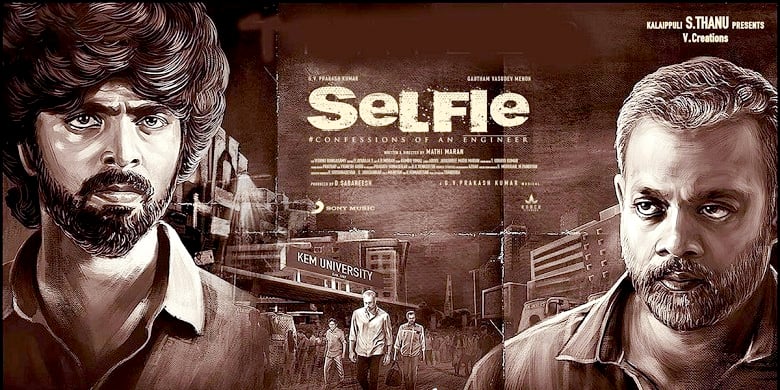 Young director Mathi Maran speaks about admission scam in professional colleges. It is a movie that revolves around the life of college students who are caught in between the management quota opportunities and the business of luring students and getting them admission for money.
Cast
Produced by DG Films, it stars GV Prakash, Gautham Vasudev Menon, Varsha Bollamma, Vagai Chandrasekhar, Sreeja Ravi, DG Gunanidhi among others. Music is by GV Prakash himself, while cinematography is handled by Vishnu Rangasamy and editing by S Elayaraja.
Story
Kanal (GV Prakash) hails from a rural backdrop. Against his wishes, his father ( Vagai Chandrasekhar,) insists him to join engineering college in Chennai. Only after joining the college in suburban Chennai, Kamal realises that thee money paid for his seat was actually because of many middlemen and agents involved in the process. He devices to become an agent himself and earn money without knowing its a dark world. He crosses sword with Raviverma ( Gautham Menon), an ex-student of the college, who controls the business. It turns an ugly battle and who prevails at the end forms the crux.
Performance
GV Prakash does well. Gautham Menon as villain syits the role. Varsha Bollama as heroine is good. Veterans Vagai Chandrasekhar, and Sangili Murugan are good.
Plus
GV Prakash acting
GVM's screen presence
Story
Minus
Second half
Predictable end
Verdict – Movie for a cause
Rating 3/5

0

0