KKNPP Unit 5 & 6 construction begins
30 June 2021, 11:53 am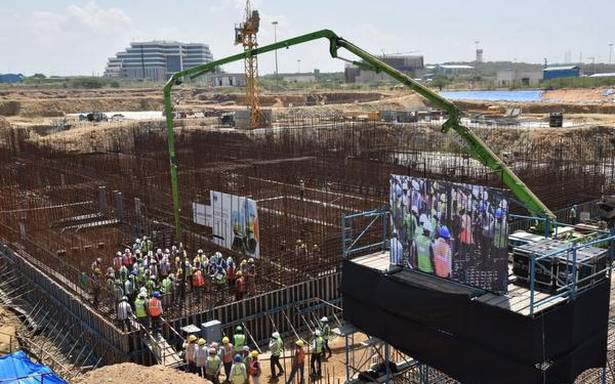 The construction of fifth and sixth units of the 1000 MW Kudankulam Nuclear Power Plant (KKNPP) began with the first pour of concrete on Tuesday in the southern Tirunelveli district of Tamil Nadu.
The first pour of concrete is an important milestone in a nuclear power project that is reckoned as the start date
of the project.
The event was launched by Mr Kamlesh Nilkanth Vyas, Chairman, Atomic Energy Commission and Secretary, Department of Atomic Energy (DAE), in the presence of Dr Alexey Likhachev, Director General of ROSATOM and Mr Satish Kumar Sharma, Chairman and Managing Director of Nuclear Power Corporation of India Limited
(NPCIL) through video conferencing.
Senior DAE and NPCIL officials and those from Larsen and Toubro were present on the occasion.
Dr Likachev said for many years the KKNPP construction project has been a symbol of close cooperation between Russia and India.
"However, we do not want to stop at what had already been achieved.
Rosatom has all the most advanced nuclear power technologies. Together with our Indian colleagues we are ready to launch the serial construction of the state-of-the-art Generation III+ Russian-designed nuclear power units at a new site in India. It is stipulated by the existing agreements," he said.
The KKNPP comprised six units of Light Water Reactors (VVERs) each of 1000 MW, set up in technical cooperation with the Russian Federation.

0

0